Financial Trend (Quarterly)
Fiscal Year | Quarter
(Millions of yen)


'12/
7-9

10-12

'13/
1-3

4-6

7-9
Marketing Solutions Business
54,730
61,370
68,733
63,203
67,285
Consumer Business
23,209
26,284
25,388
25,907
25,431
Others
2,596
3,381
5,913
5,381
5,414
Adjustments
-1,748
-2,406
-2,060
-2,160
-2,422
Revenue
78,786
88,630
97,975
92,331
95,708
Operating Income
43,289
49,973
50,931
48,642
49,237
Ordinary Income
43,963
50,054
51,856
49,034
49,103
Quarterly Net Income
27,128
30,947
31,865
32,284
30,323
Operating Margin(%)
54.9%
56.4%
52.0%
52.7%
51.4%
Ordinary Margin(%)
55.8%
56.5%
52.9%
53.1%
51.3%
Quarterly Net Income to Revenue(%)
34.4%
34.9%
32.5%
35.0%
31.7%
Total Assets
591,763
622,915
743,311
730,631
785,514
Total Net Assets
501,002
537,252
551,264
559,230
590,294
Cash Flows from Operating Activities
48,262
14,116
60,442
8,987
56,688
Cash Flows from Investing Activities
-7,265
-5,862
103,183
-3,942
-50,238
Cash Flows from Financing Activities
20
-40
-20,136
-23,510
202
Total Cash Flows
41,003
8,345
143,683
-18,329
6,665
Number of Directors and Employees
(People)
5,504
5,783
5,823
6,173
6,233
(Note) 1.

Segment components were changed in Apr.-June quarter of the fiscal year ending March 31, 2014.

2.

Data for the fiscal year ended March 31, 2013 onward have been adjusted to the current presentation retroactively.

3.

Adjustments figures represent inter-segment transactions and general corporate expenses not belonging to any reporting segment.

4.

Data for Total Assets, Total Net Assets and Number of Directors and Employees are as of each quarter end.

5.

Number of Directors and Employees includes staffs who have been dispatched.
■ Revenue (Quarterly)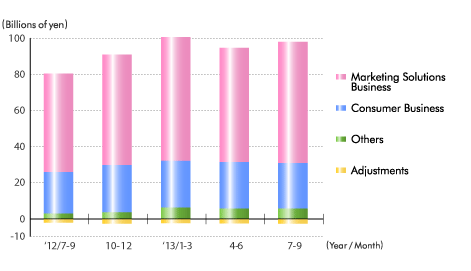 ■ Profits (Quarterly)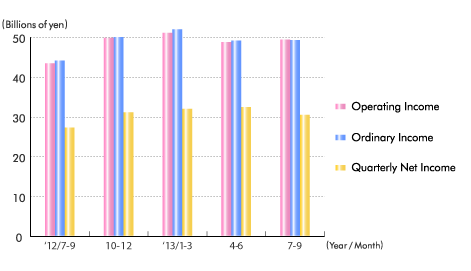 ■ Profit Margins (Quarterly)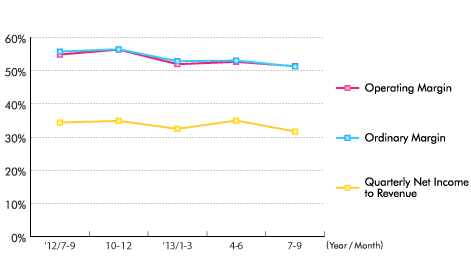 ■ Total Assets and Total Net Assets (Quarter Ends)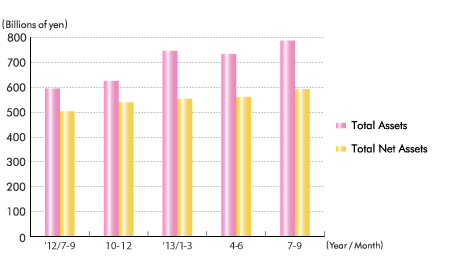 ■ Cash Flows (Quarterly)

Investor Relations
Stock Quote
TSE Stock Quote (Real Time)
12/10 15:00 JST
Price

559

Change

+29

Open

535

High

563

Low

533