Message from President
To Our Shareholders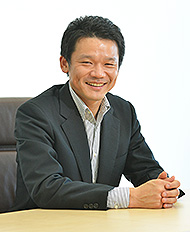 Manabu Miyasaka
President
Yahoo Japan Corporation
Since joining Yahoo Japan Corporation in 1997, I have been immersed in the day-to-day developments of the dynamic Japanese Internet industry, growing and developing together with the universally acknowledged market leader. In this sense, I have been fortunate and am truly grateful. Now, as the newly appointed president and CEO of Yahoo Japan Corporation, it is my honor and sincere pleasure to address shareholders for the first time in this annual report.
With the April 1996 launch of Yahoo! JAPAN, the Internet's first Japanese-language information search service, Yahoo Japan Corporation (the Company) quickly attained prominence in the Japanese Internet market. Since then, the Company and its consolidated subsidiaries and affiliates (the Yahoo Japan Group) have achieved continuous and sustainable growth by offering an ever-expanding array of useful, cutting-edge services and content that enhance everyday convenience and brighten daily life. As a result, the Yahoo! JAPAN portal site remains the undisputed leader in the PC-based Japanese Internet market still today.
The traditional Internet-access-via-PC paradigm is currently undergoing a mobile shift. In recent years, Internet access via handheld mobile devices, particularly smartphones and smart pads, has expanded sharply in Japan, supporting explosive growth in Internet user numbers and usage times. By strengthening our position in this burgeoning mobile-based market, we expect to secure a solid new source of sustainable growth moving forward.
Overview of Fiscal 2011
Fiscal 2011, the year ended March 31, 2012, marks the Yahoo Japan Group's 15th consecutive year of record-high sales and profits since the commencement of operations. Consolidated net sales increased 3.3% over the previous period's result, to \302.0 billion. Consolidated operating income, meanwhile, rose 3.4%, to \165.0 billion, and consolidated net income surged 9.1%, to \100.5 billion.
The macroeconomic environment in Japan during the period under review was generally challenging, reflecting uncertainty in the wake of the March 2011 Great East Japan Earthquake, the deepening European debt crisis, and the persistently strong yen. Despite earthquake-related weakness at the beginning of the period, fiscal 2011 net sales were up year on year primarily owing to strong contributions from advertising-related services, e-commerce businesses such as Yahoo! Shopping and game-related services, and information listing services.
Regarding expenses, sales promotion costs in fiscal 2011 increased owing to aggressive promotional activities undertaken primarily in search services and in Yahoo! Shopping. On the other hand, enhanced operational efficiency stemming from our fiscal 2008 acquisition of a data center resulted in a drop in communications charges, which more than offset the rise in sales promotion costs.
Overview of Core Businesses
Advertising-related revenues account for more than half of the Yahoo Japan Group's consolidated net sales.
According to industry data compiled by DENTSU INC., total advertising expenditures in the Japanese market in calendar 2011 decreased 2.3%, largely owing to the dampening effects of the Great East Japan Earthquake. This marked the fourth consecutive year-on-year decline, strongly suggesting a generally downward long-term trend in Japanese advertising expenditures. Internet-related advertising expenditures, on the other hand, were up 4.1% in 2011. Although less robust than the 9.6% year-on-year increase recorded the previous year, growth in Internet-related advertising expenditures in 2011 remained on an upward trend.
Against this backdrop, the Yahoo Japan Group's advertising-related revenues in fiscal 2011 grew around 5%, to approximately \165.6 billion.
Listing advertising sales, which account for around 70% of total advertising-related revenues, expanded steadily in fiscal 2011. Despite weakened demand for Internet information service-related advertising, particularly joint purchase-type coupon sites, sales of Sponsored Search® paid search advertising, which generates the bulk of our listing advertising sales, increased owing primarily to solid growth in advertising placement demand from regional advertising agencies with strong ties to local communities. In November 2011, we successfully completed the transition of our paid search advertising distribution system from Yahoo! Inc. to Google Inc. In view of the magnitude of the task, including painstaking precautions taken to protect advertisers' copy and other sensitive data, we suspended marketing activities targeting new advertisers throughout the transition period. After the transition, which went smoothly and without critical incident, a brief "learning period" was required for system optimization vis-à-vis the Yahoo! JAPAN user and advertiser base. As a result, sales growth both during and immediately after the transition was muted. In fiscal 2012 and beyond, we expect rapidly increasing growth in sales of our Sponsored Search® service.
Sales of display advertising, which make up about 30% of total advertising revenues, were also up in fiscal 2011. Comprising mass-market branding tools such as banners used primarily by major corporations, display advertising tends to be relatively sensitive to macroeconomic trends. Reduced demand for display advertising from automotive-related sectors persisted throughout the year under review, reflecting the residual effects of the Great East Japan Earthquake. In addition, sales to the Internet information services sector, focusing mainly on joint purchase-type coupon sites and feature-phone game-related advertisers, were down during the period. On the other hand, demand for display advertising from cosmetics/toiletries-related, real estate-related, food product-related, and other companies was notably robust. As a result, display advertising sales recorded a year-on-year increase in fiscal 2011.
Advertising-related sales in the mobile phone market in fiscal 2011 mirrored mobile phone users' rapid shift away from conventional feature phones in favor of smartphones. Accordingly, feature-phone advertising sales contracted sharply while smartphone advertising sales surged strongly. The net effect was a substantial increase in our total mobile-based advertising-related sales compared with the previous fiscal year.
Smartphones offer Internet access capabilities and viewing convenience on a par with PCs. In addition to providing access to smartphone-optimized services and applications, smartphones incorporate a screen-enlargement function that enables users to quickly locate desired information even when viewing Internet pages prepared for PCs. Boasting high compatibility with information search services, smartphones represent a highly effective means of monetizing paid search advertising, as demonstrated by the dramatic expansion of smartphone-based listing advertising revenues during the period under review. On the other hand, our efforts to effectively monetize display advertising content via smartphones, focusing on display frequencies and advertising specifications, remain largely at the exploratory stage. One exception is our Brand Panel advertising placed on the smartphone-optimized Yahoo! JAPAN top page, which has earned an excellent reputation among advertisers.
Overview of Other Businesses
Although many e-commerce businesses experienced earthquake-related sluggishness during the initial weeks of fiscal 2011, both Yahoo! Shopping and Yahoo! Auctions recorded year-on-year increases in transaction value. Meanwhile, pay content sales surged on the back of a strong performance from the game business. As a result, total revenues from e-commerce businesses registered year-on-year growth.
Revenues from information listing services were also up in fiscal 2011, owing primarily to stronger contributions from Yahoo! Rikunabi and Yahoo! Real Estate.
For further details, please refer to the Business Segment Review in this annual report.
Maximizing Shareholder Value
Firmly dedicated to driving the ongoing expansion of the Japanese Internet market, the Yahoo Japan Group aims to achieve further business growth in the medium to long term by responding effectively to the challenges and opportunities of an ever-changing business environment. While emphasizing the accumulation of the retained earnings necessary to strengthen our financial structure and fund future business development, we will continue to place a high priority on returning profits to shareholders.
For the fiscal year ended March 31, 2012, management maintained a payout ratio of 20% of consolidated net income. Accordingly, we paid an annual cash dividend of \347 per share for fiscal 2011, a 9.1% increase compared with the previous fiscal year's dividend of \318. In the years ahead, we will continue to retain a level of financial reserves considered essential to our ongoing expansion. While striving to further boost overall performance, we will maintain a flexible and balanced approach toward the return of profits to shareholders, guided by an overarching commitment to the maximization of shareholder value.
Investor Relations
Stock Quote
TSE Stock Quote (Real Time)
5/24 15:00 JST
Price

47,500

Change

-300

Open

47,500

High

49,450

Low

45,000